Month 4
---
It has been a very very veeeery long month...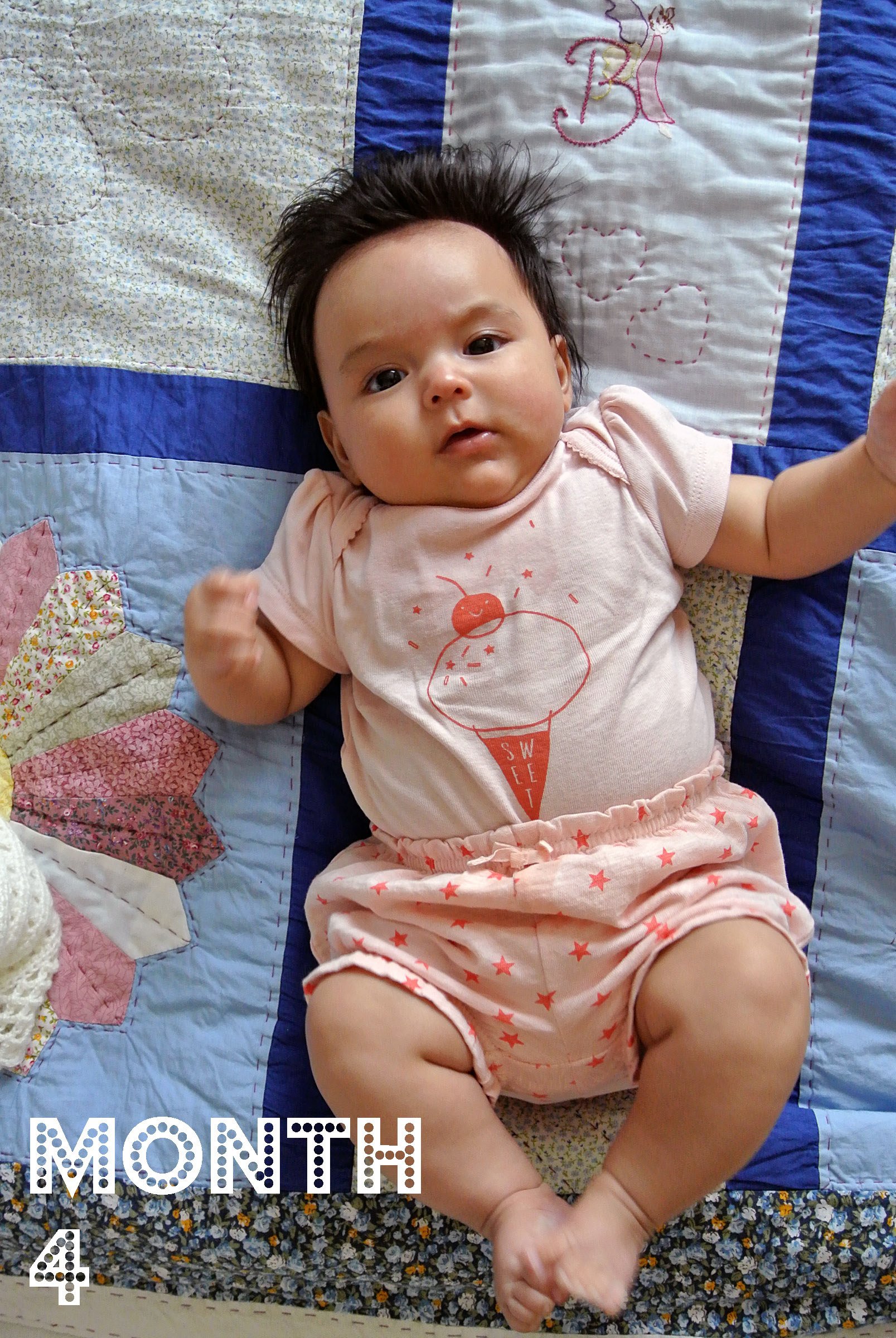 I've already told you about how babys periodically have growth spurts, well, we are right now in growth spurt #4 and it has been a nightmare! It started around week 14/15 and it's supposed to last until week 19/20! We've had 4 weeks of crying and screaming and mood swings and so on... We have "good" days, bad days and very bad days. Yesterday was a very bad day, the Hubs had to come earlier from work, so i could take a couple of hours off (i went to yoga class). All kids have growth spurts, but not all react the same way. Unfortunately for us, baby Moomin is super susceptible to them, plus we think she has started to teeth :-( I'm amazed at how much drool comes out of such a little mouth and everything is furiously bitten on. She started sleeping from 8 p.m. to 5 or 6 a.m. (yei!), but recently sleep has eluded her. She does not wake up completely, or cry, but she moves a lot and starts making noises and it may not sound that bad, but try to get some sleep next to that! She's 18 weeks old and i'm desperately hoping that it's over soon! The main problem is growth spurts never really end! The next one starts around week 23, which means that we have 3 weeks of relative calm and then it starts all over again :'-(
I read about a study, in which it has been proved, that having a baby makes you more unhappy than losing a loved one. Honestly: of course! naturaly, it also depends on your and your baby's character, but it is a lot of work! plus the constant crying gets directly to your core. If you don't have any help from your partner, or family, or friends, it's just worse. Having said that and i have to remind myself of this: that unhappiness will not last forever! your baby is not going to be a crying bundle for it's whole life! That is also one of the most satisfying parts of being a parent: seing your child grow, not only physcally, but mentally and emotionally. As hard as these past weeks have been, it has also been very fascinating to realize everything she has learned. She grabs things and leads them to her mouth, for which she had to recognize her hands and that she can move them. She gets frustrated so fast! it cracks me up! It's like she knows she can do more, but her motor skills are not that developed just yet. She wants to sit already, but her back is still not able to hold her. Being on her stomach is finally working out much better. If it were for her, she would spend the whole day lying on her stomach, but she still gets tired after a while and then the whining starts, because she doesn't want to lay on her back anymore. She is still not rolling over, neither from her back to her stomach, nor the other way around, but a couple of days a go she turned from her stomach to her back accidentally and i think she remembers, because i have seen her trying to do the same movement over and over again, but it's just not working yet. Her temper is also beginning to show, she's quite stubborn, but so adorable! She smiles and laughs and is super curious and always always wants to play :-D
Nevertheless. i'm looking forward to more "me time". I do believe it is very important for parents to have some time on their own, to do whatever they want. I'll be happy, when we can finally leave her for a couple of hours with a baysitter, so we can go to the movies, or for a drink... just to refuel yourself with new energy and so be able to deal with all the downs of parenting ;-)
BTW: i just noticed on the pictures that one of her cheeks looks a little bit red... teeth! 
Have a nice wednesday!
x.o.