Not so late New Year's Resolutions
---
Remember last year, when i posted my new year's resolutions in march? Well i'm actually a little bit earlier this year. Weeeee! Maybe next year i'll manage posting them on time...
I'm very proud of myself for having accomplished almost all of my last year's resolutions. I cannot say that i'm a good cook now, but i think that's something you have to keep on learning. I mean i'm not that dumb, i just need some more practice.
I could not start running because i wanted to do it with Lola, but i didn't know, that you have to wait until your dog is fully grown (about 1 year old) in order to start doing real exercise with it. Ah well, the little mosnter is almost a year, now i just have to teach her to run by my side and not trying to bite my calves.
So, i thought about more stuff i want to accomplish this year: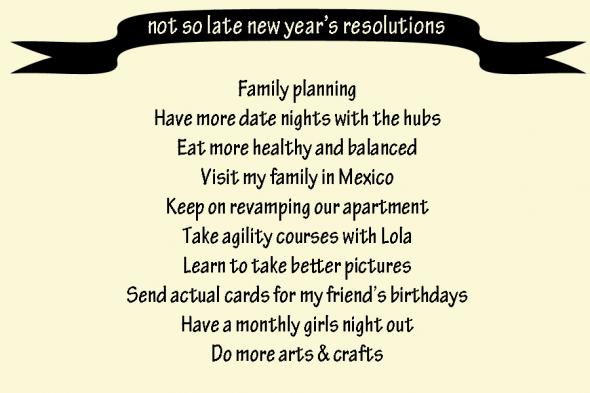 We have been trying for a while now, but we still haven't been blessed with a mini-us just yet... but more on that subject on another time and another post.
Raul and i spend a lot of time together actually, but i would love to have time where it's just us, without having to worry about hosehold chores still to be done, or who's turn it is to take Lola out. Specially if we're planning on adding another member to the family.
I'm not a glutton, but i have really bad eating habits. I'm completely able to ignore the feeling of hunger for hours, which is not very healthy of course. If i want to take care of another human being, i have to learn to take better care of myself first.
I miss my mom and my dad! I haven't been in Mexico since the wedding in september 2012! We are planning on going for christmas at the latest and even though is a sure thing, it's still a bummer to have to wait for so long... I want tacos!
I still have so many plans and ideas for the apartment! I want to paint the small bathroom, our bedroom (believe it or not) is still not fully finished, and of course we have big plans for our spare room, which you haven't seen yet, because i don't know where i saved the pictures i took of it some time ago. I could take new ones, but i would have to clean and honestly... that's not going to happen ;-)
Like i told you before, we are planning on doing fun stuff with Lola. She's made for agility, so we're going to give it a try.
Almost all good pictures shown here are taken by my husband. I want to learn to finally use my camera correctly on manual mode.
This one i'm quite excited about. I will be doing the birthday cards myself and sending them to everyone i can manage. I'm planning on turning this whole idea into a DIY series over the whole year, a different type of card each month. 
A couple of friends and i have been trying to manage to meet at least once a month. It's not easy since some of them work and others still study, but is so worth it :-)
I want to paint more! and sew more! i've already got some projects in mind... which i should probably write down, you know, in case i forget...
So, these are my wishes for this year 2014. What are yours?
x.o.