Hallway revamp
---
Our hallway is done! no, the closet is still not finished... but the hallway finally looks decent. It's actually not completely finished, but it's good enough for now. I painted it all by myself (as if you couldn't notice...)!
I've been wanting to paint the hallway for quite a while now, but had no idea what to do. It's not extremely dark, but it does not get a lot of light either. I was thinking about painting one or two walls in a lavender color. Then one day, while browsing for more ideas, i found Jen's Mudroom makeover... how cool are those stripes?! I showed it to my husband and to my surprise he was ok with painting the whole hallway (i just wanted to do two walls). 
I did not want just a grey color, so we chose a somewhat greyish purple (or purplish grey...) that fits really good with one of the drawers from the dresser we already had there. A couple of years ago i bought what seems like hundreds of 20x20 mirrors with round edges at IKEA and have used them in every single apartment i have lived in... i hope this is the last time i stick them to yet another wall.
I absolutely love how it turned out:
You've already seen our chalkboard wall calendar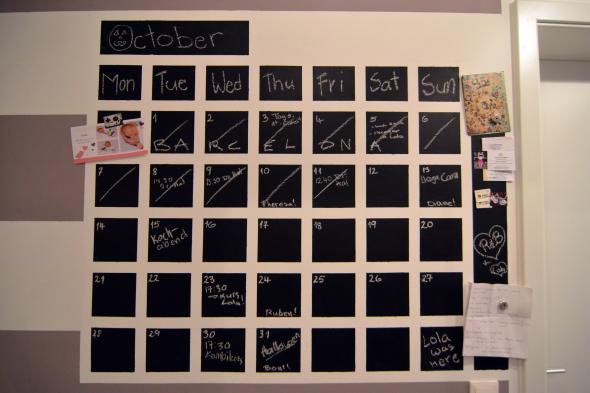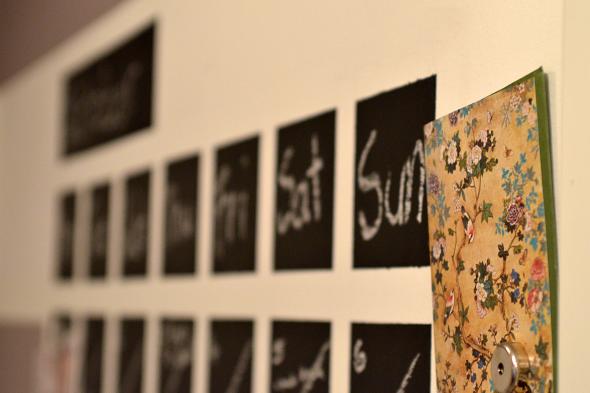 Even the dresser looks better! I already had those frames and was very glad that the colors (pink and purple) now fit perfectly with the rest of the room. The vase i got at IKEA and how cool are those flowers, right? 
We use the small shelf space on the side of the dresser to store the chalk, but i need to search for a better solution since Lola tends to take stuff down from that space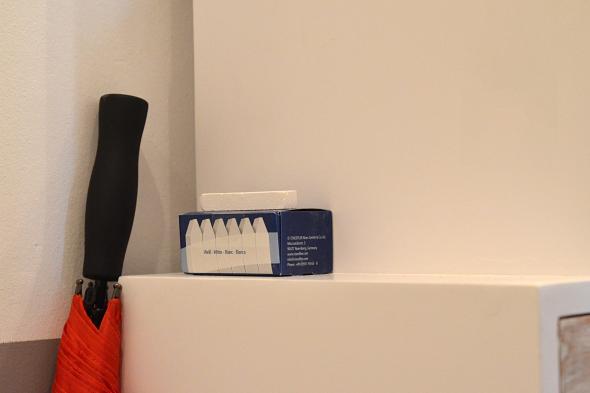 The other side is the "not quite finished side". Since our closet is not done yet, we just put all our daily shoes here, which annoys me because a) there is no more space for when we have guests and b) Lola has very easy access to all my sneakers.
We will hang some pictures on the upper part of this wall, but it will take some time.
And i want a small stool, so you can actually sit while putting on your shoes.
On the right side of the big bathroom door we hung some pictures of our little monster furball, because we are crazy Lola loving people, that's why!
And because we love her so much (and because she would not get out of the way) here she is one more time: