Chalkboard Wall Calendar
---
Remember my hallway? yes, my boring hallway with the sad sad corner? well, that corner is gone for good! :-)
If you're not yet a fan of Jen Loves Kev, you should better check it out soon. Browsing through Jen's Blog i found the perfect idea for my sad corner: a Chalkboard Wall Calendar!
We already had a calendar there, but i think that there comes a time in your life when it's not cool to have things taped to your walls anymore. I'm an adult, i can use a hammer, i can afford frames! But who wants to spend a lot of money on stuff you can do yourself, right? (no, our closet is still not finished...)
So i took Jen's idea and changed the layout a little bit. I have to say this is probably the most difficult part of all this project. I spent like 5 hours taping my wall (well i also have some mild ADD and i'm always glad to distract myself with crappy TV).
We also decided to use a magnetic lacquer, you know, because magnets are cool ;-) You have to aply it first and i cannot stress enough how important it is to sand after every coat (you need like 3). If you don't sand, you won't have an even surface to write on (i did not take the sanding that seriously and have now small spaces where the writing looks more like pavement than board) Another tip: mind your floor and surrounding walls!!! It can get really messy while sanding. It does come off with water, but if i had known (or tought about it first...), i would have put something underneath.
After 3 days i finally applied the chalkboard paint! After the first coat i noticed how uneven everything was and had to do some serious sanding... But as you can see, it payed off!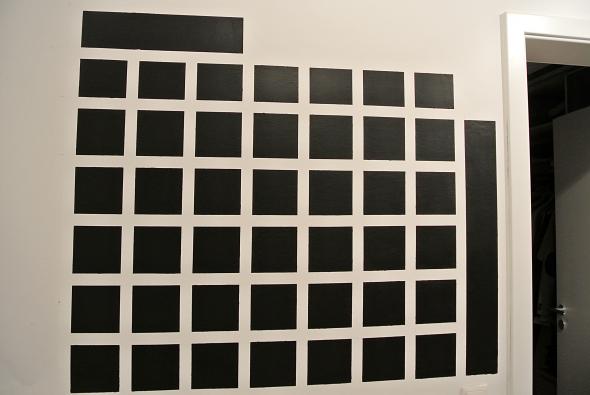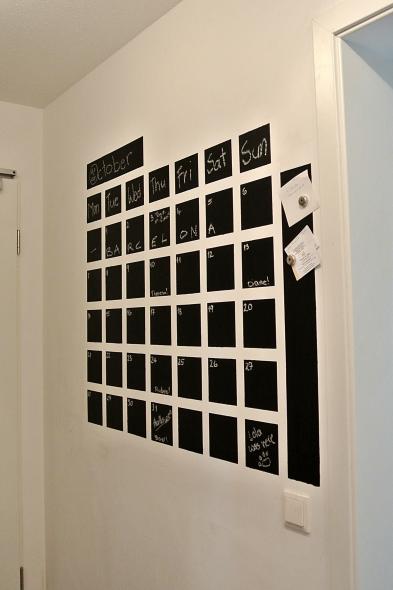 It works perfectly! The magnets stay on the wall! I still have to clean up some parts, but i'm very happy with the results. :-D
This was the first step on our hallway revamp and i hope you liked it! There is still more to come ;-)
But everything else will have to wait after our well deserved vacations! We leave tomorrow for a nice week in Barcelona with the In-Law-Family :-) I wish youl all a relaxing weekend and a nice week and see you in a couple of days!