Welcome to my crib: Hallway
---
Do you know how it feels when you think you're getting sick, but you don't and you're tired and not quite well all the time? That's how i've been feeling this whole week :-( It's also getting colder outside and it's raining a lot again and as you know this does not matter to a certain baby dog. We have been playing outside in the rainy, cold weather. I think it's time to get the warmer sweaters from the basement.
That's why i have not been doing anything interesting lately, but finally had time to take some more pictures of my home (and edit them, which takes some time...). This time i present you our hallway.
This pictures are not new, but the hallway has looked like this since we moved in almost 2 years ago. Since it's a little bit dark, we kept everything white with some colorfull details like the dresser and the rug. But it's so... boring!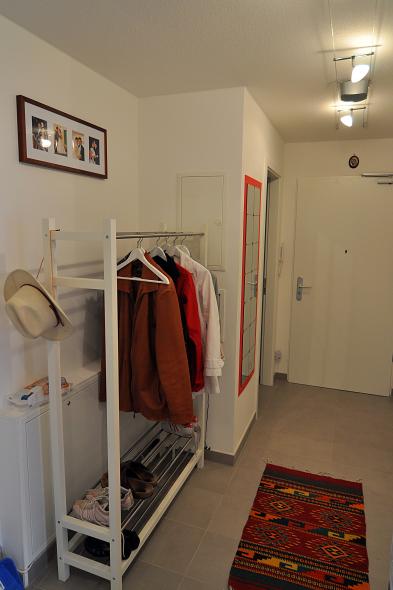 The door in front is the entrance and the one to the left is our small bathroom. We had two sets of those mirrors in our last apartment, but decided to use just one for this one. The coat rack is a very simple model from IKEA and we brought the rug from Mitla, Mexico. The pictures above the rack are from friends weddings... hmmm... yeah, i'm not sure what we had in mind with that ;-) I'm not a fan of the lamps, i don't like that cable-system-idea. It is quite functional when it comes to seasons decorations, but that was it.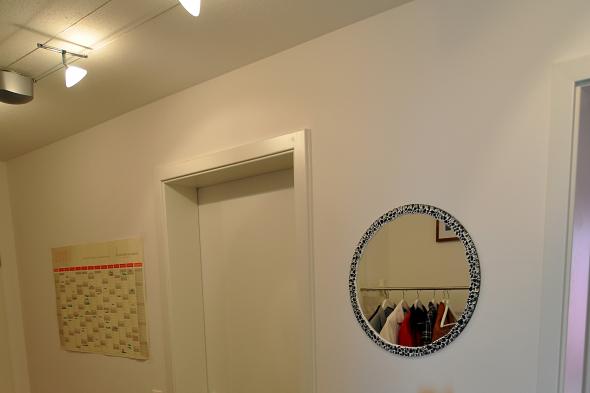 You see that calendar taped to the wall? Yeah, it's sad... I think it's the saddest corner in our home.
I love that mirror! And not just because i did it myself! Well, who am i kidding, it was my first DIY project for our last apartment and i think it's awesome! ;-)
I love that dresser! We bought it at Höffner. I'm not very hapy with the arrangements there. I always try to keep it organized, but we just come home and leave everything that's in our pockets on it. Every drawer is full with stuff (the 3rd one is Lola's drawer :-D). The door to the left is our bedroom and the one to the right is our studio/library/guest room. Tho the right of that is the big bathroom.
Last time i came home from a longer trip, i noticed that the hallway is sooo uninviting. It looks as if we just moved in and hadn't have time to organize stuff there. That's why i'm planing some remodeling in there ;-) Nothing major, since we're not changing furniture, but i hope it looks better, when i'm done with it. I wanted to do it in these weeks but then we started with the closet (wich is almost done!) and i don't really like having different projects at the same time... but i'm hoping to start this weekend, or next week at the latest. So, look forward to it!