Little trip to Berlin
---
Hi! sorry for the lack of news this last days. Last week was a short one, since thursday was a holiday and many of us took friday off. 
I told you about our wish to buy new furniture for our bedroom, but we had it planed for the end of the year or maybe even until next one. I don't know why but all of a sudden Raul started looking for a new bed and before we knew it, we had bought one. It's really nice quality, made of acacia wood, 160x200 (our last bed was 140x200), new, even still in it's original packing and for less than half of the original price!!! The catch: we had to pick it up ourselves in Berlin.
We rented a car and decided to buy also new mattresses, slatted frames and nightstands. So we bought Lola a safety belt for dogs and hit the road!
It were 2 long days! We drove there on friday and spend the evening getting all we needed and we took some time to visit a couple of friends who live there. We wanted to take some pictures with Lola at the Brandenburger Tor or the Siegessäule, but we had no more time to spare.
On saturday we made our way back home and had to put the new bed together which took some time because it's really heavy.
Well now we have a new bigger, prettier bed that is also a little bit longer than the last one, so we had to take off the doors of my side of the closet :-/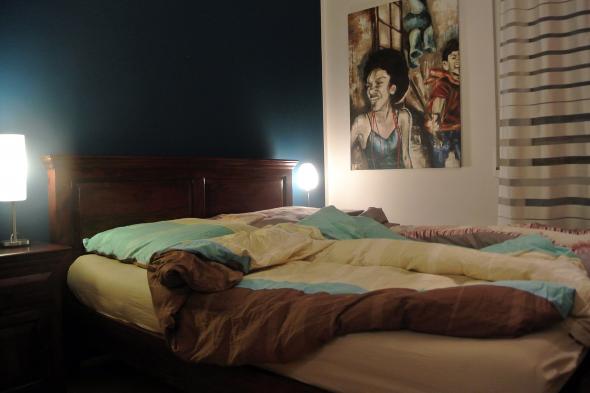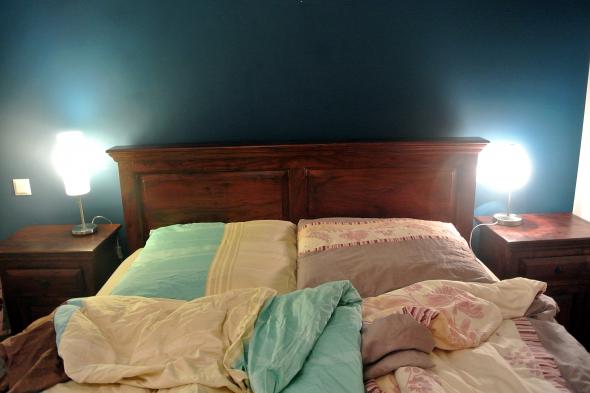 Sorry for the not so good quality of the pictures, but i was tired ;-)
Well that will be our next proyect: finish remodeling our bedroom! Raul wants to built a bigger closet by himself, so that we can really use the whole wall space. We will build a canopy over the bed with indirect lighting and since we are giving our big desk away, we would like to buy a small secretaire where i can work on.
New exciting things are happening! I wish you all a nice monday!
xo