Welcome to my crib: Living Room
---
I finally took some pictures of the living room! We spend a lot of time here, mostly watching movies: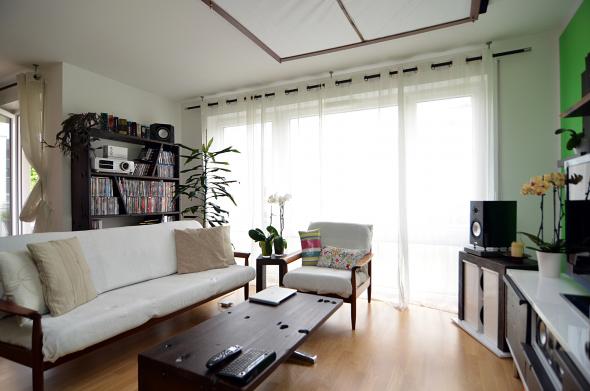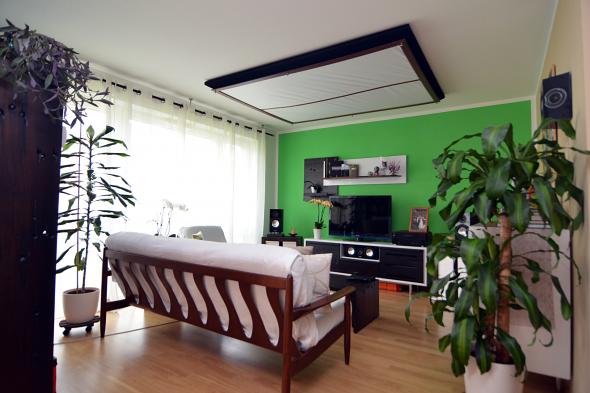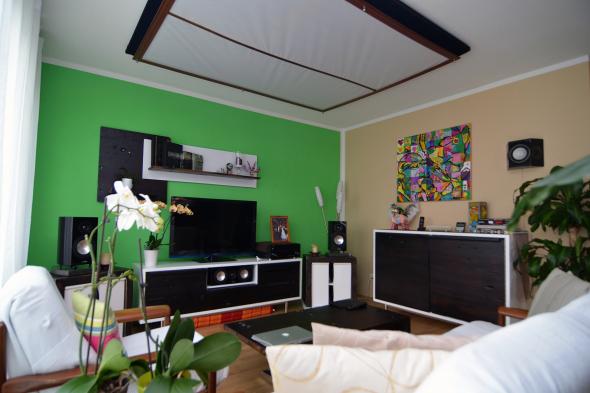 We wanted to have some colors in here to make it more lively, but i'm still not that sure about the green. It's way too apple green and i actually wanted a forest green, but my husband liked that one better. Compromises! The neutral beige/sandy tone extends to the Dining Room. The painting on that wall was made by the guests at our civil wedding party. Everybody got a little square with some lines on it and they were asked to paint it in what ever way they wanted, but nobody knew exactly what the black lines were until my sister-in-law put it together (it's a picture of my husband and me eating ice cream).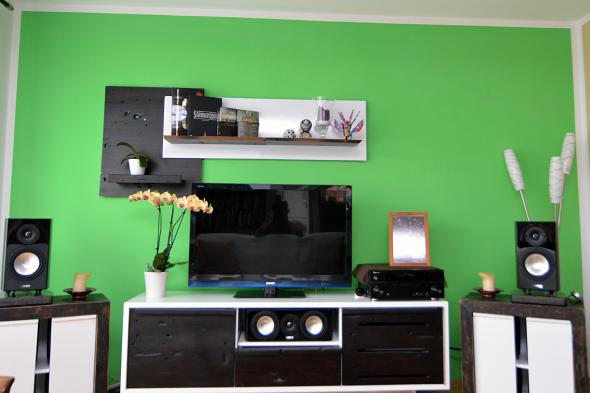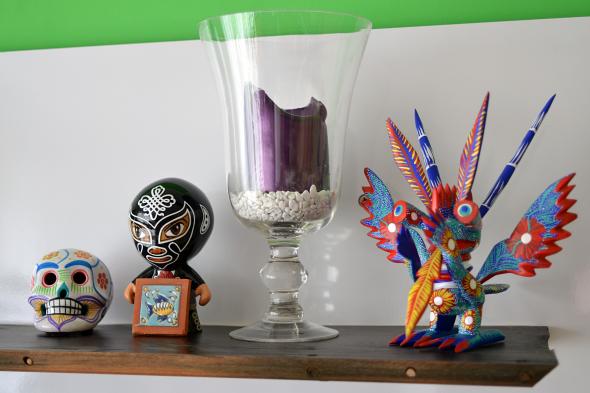 These are some things we brought from Mexico: (f.l.t.r.) Dia de Muertos skull (made out of clay and hand-painted), Mariachi wrestler (out of wood and hand-painted), small tile and an alebrije (also made out of wood and hand-painted).
As i've already told you, my husband is a very talented handyman! He built these bass amplifiers (or whatever they are) by himself and if you are interested you can read (although i just noticed it's in german.. but he has also some nice pictures!) all about the process here.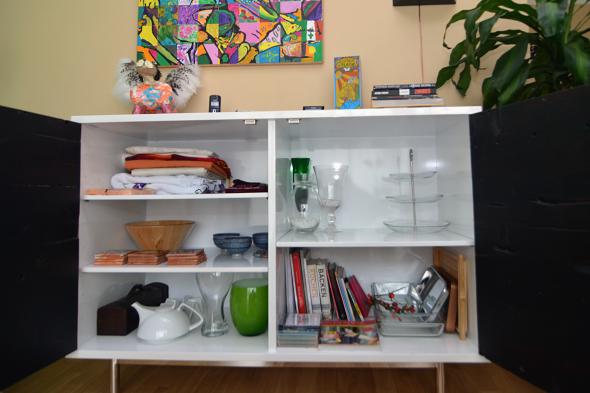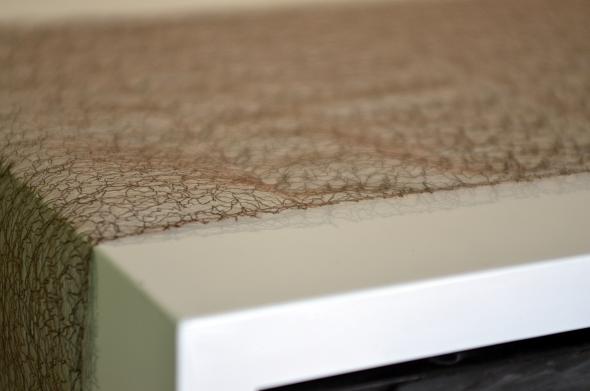 We finally have some storage space for all our living/dining room stuff! The weird sculpture here is my self-made alebrije for an arts class last semester. My father in law got us all the plants. I love them! They make the whole space prettier.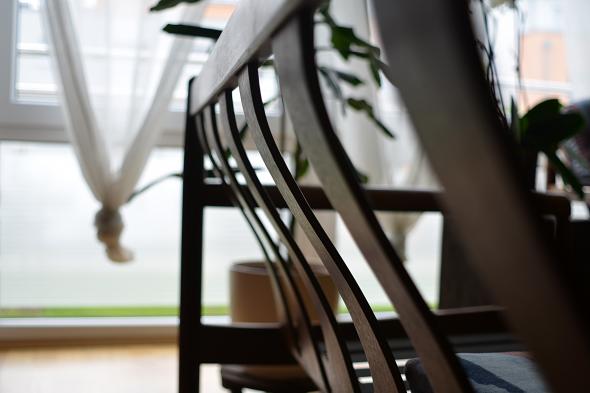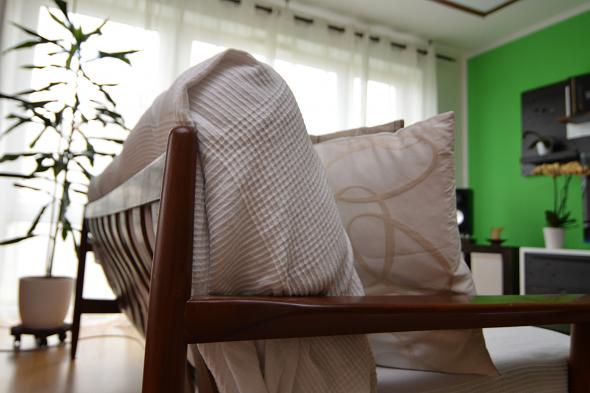 We got the couch and sofa from my husband's parents. They are old, but still in very good shape and we just love the wood and the form. The cushions... not so. They have a very weird 80's style upholstery, so we bought some white covers from IKEA and i think it works just fine.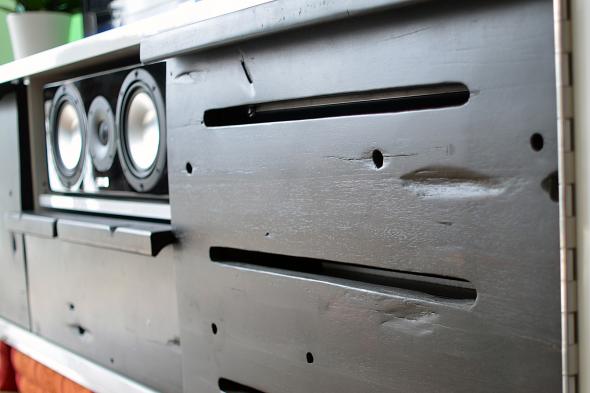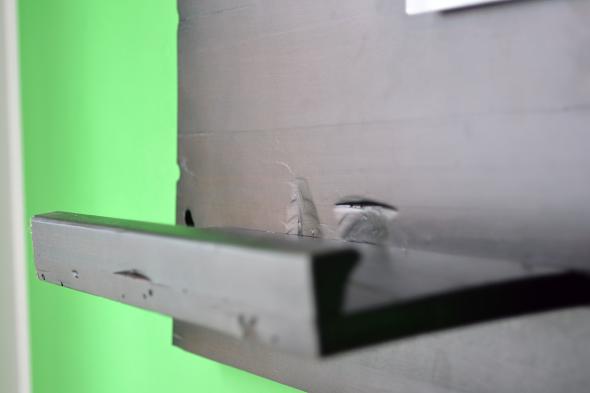 The rest of our furniture (besides the small tables) are made out of old chinese ship wood. Raul built the rack above the TV (and the bass thingies) from a broken sideboard (we got a new one, but it's not perfect either, the doors do not close, we'll have to fix them).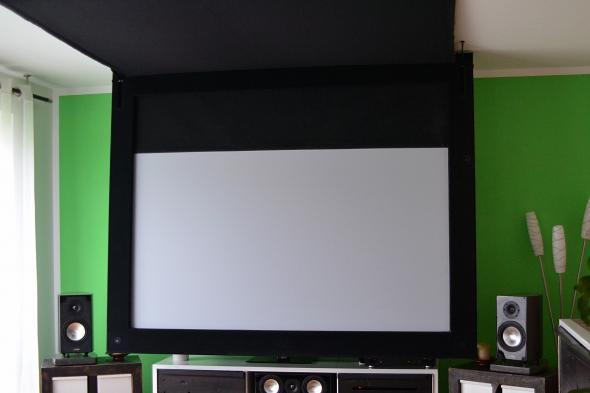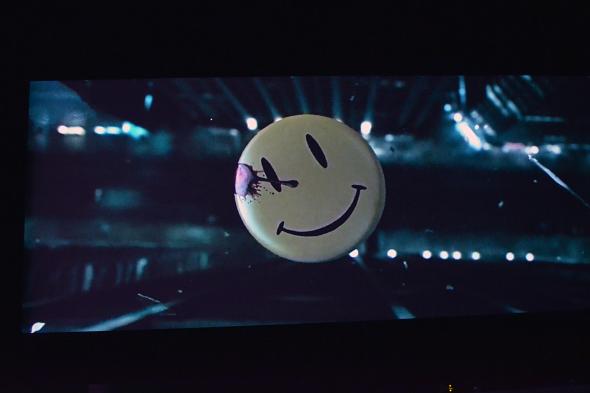 As you see we are movie addicts! Our favourite pastime is to invite some friends, cook something easy and watch something :-) And of course we watch them in big movie theater style! If you were wondering what that huge thing on the ceiling was... well, on one side it's a lamp and on the other it's a very cool screen. Also built by Raul and again you can see all the process here.
I don't think we're going to change anything any time soon. We just bought the ship wood furniture and the rest works just fine.
The only thing that might be changing are my accessories-arrangements. I'm not that happy about how it looks, but i'm not sure how to make it work. Specially the space on the wall rack. The problem there is that it tilts a little bit forward, so i'm always afraid the stuff might fall down.
I would also like a new rug! We had one there, but had to take it away when Lola moved in with us. She peed on it just once, so we still have it (it's in our basement), but i don't like it. I have already some ideas that i will be sharing with you, once i have the time to do some photoshop!
Well that is our amesome movie-watching-ready living room and i hope you liked it!
See you next time!
xo