Welcome to my crib: Big Bathroom
---
We have (luckily) two bathrooms in our apartment! One small one with a shower and a bigger one, which i present you here today: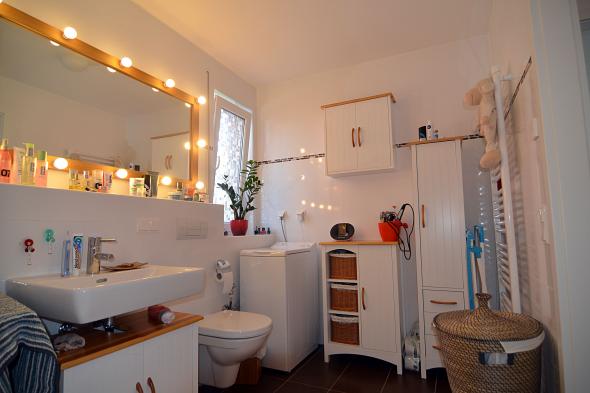 We had the opportunity to select our floor and wall tiles and chose a warm chocolate brown colour for the floor and a stone trim with white tiles for the walls. We wanted eggwhite colored tiles for the walls, but it wouldn't fit with the white sanitary installations.
As you see, we have enough storage space: all cleaning agents are in the cabinet under the sink, towels are in the tall one. Even our small washing machine fits perfectly in the corner.
We aimed at a natural "earthy" look with wood, wicker and some bamboo. There is also a bath rug that used to be white, but right now it's more pink-redish because i washed it wrong... we need a new one.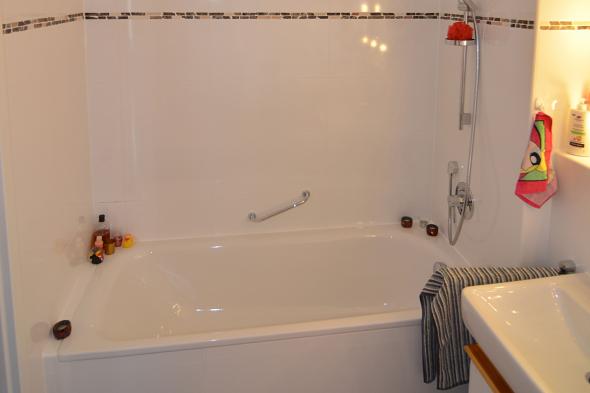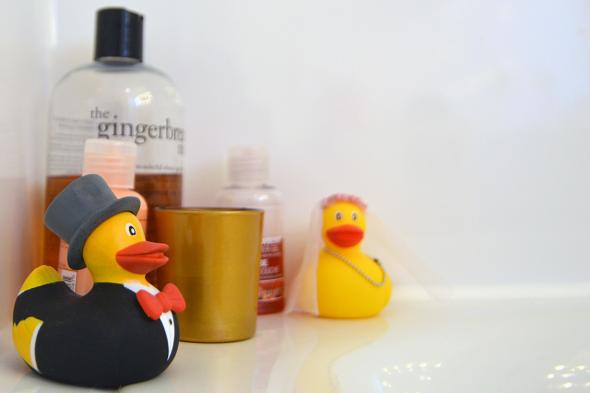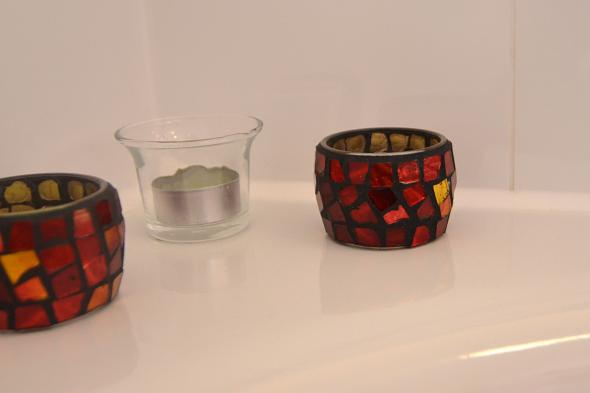 On the other side is our bathtub. I love the bathtub! I would bathe every day if i could ;-) It could also be used as a second shower but we don't have a shower curtain there. I'm not sure if i want one, maybe later, we don't need it right now.
I would like some small bamboo candle holders. Right now we have some red ones that match perfectly with our red plant pot and an orange one that i use as storage for all my hair stuff, but i would like to find more. I love candle light (specially while taking a relaxing bath)!
These wicker baskets are full with makeup and a lot of other toiletries.
Behind the door is total chaos! Don't even ask me, what's in there, because i have no idea. I think there is more cleaning stuff that we don't use. 
I'm a complete morning grouch! i'm not approachable before having brushed my teeth and cleaned my face. Music helps too! I love to listen to music or an audiobook while i get ready in the mornings (or while taking a relaxing bath).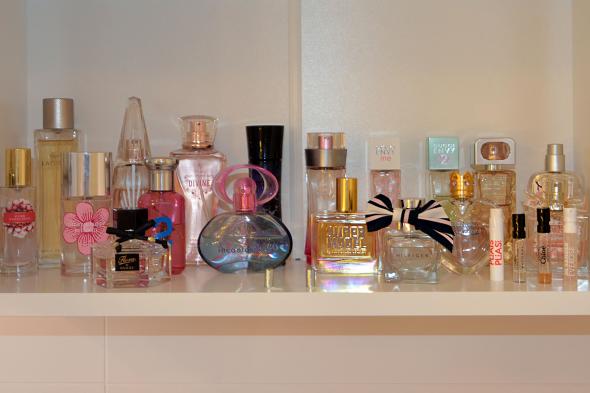 I don't exactly know why, but i'm obsessed with perfumes! I had more at one point but then i noticed that perfumes can go bad too and i had to throw away a lot of them. I like getting a new perfume every season and every single one of them reminds me of an specific moment in my life. I stored them in the small wall cabinet but i think they are too pretty to be behind closed doors ;-)
My husband is a skilful handyman. I wanted to have a nice big hollywood style mirror and he built me one. I love it! On the shelf space under it is all the stuff we need (or think we need...) on a daily basis.
I'm happy to have a small window in here. We have had all kinds of plants in here but this is the only one that has lasted long. Don't worry, all the other ones are not dead, they just didn't like it there and i had to put them somewhere else. I would love to have another plant in there, maybe on top of the tall cabinet? It should be a resistant one though, one that doesn't need much light. Do you have any suggestions?
I like our bathroom as it is, i don't think i would be making changes here any time soon, well, maybe get rid of some stuff and organize the rest of it better!
I hope you enjoyed it!
xo