What ever happened to Baby Lola?
---
It's been 3 weeks since we got our little, furry, fluffy bundle of joy!
She is perfect! well sometimes :-) She is extremely curious and learns new stuff so fast that we are beginning to train her with a clicker. I was not that excited about it at first, but it's quite easy and i think Lola likes it too. 
We are having some problems with biting and i hope to break that habit soon. She loves to play and to chew on things. We try to get her to play more "thinking games", but she is just a tomboy and loves tug of war, which does not help with the biting!
Every saturday we all go together to puppy play time, which she is not very fond of. Well i'm not sure, but she is still not playing with the other puppies. Shetland Sheepdogs are supposed to be very reserved towards strangers, people and dogs, but she is shy just towards dogs. I'm hoping it gets better. I know she is never going to be very adventurous or reckless, i just want her to be friendly and to not be afraid.
She does not really like to ride the bus or any kind of transportation for that matter, but she will have to learn to because i would like her to come with me everywhere (well not to work). I took her today for the 1st time to the city! I was so afraid that she would pee or poo in the metro! or that she would cry all the time, but it went really good! I think she was too afraid and too tired to do shenanigans. But she did not like to wait at my appointment. I took some stuff for her to chew on and it helped for a while, but after she was finished, she started crying and wanted to explore but i was afraid that she would pee indoors. We had to leave a little earlier than planned, but it was ok, she has to get used to the whole waiting idea. She was snoozing all the way back and fell asleep as soon as we came home.
She is a doll! i LOVE her! we are really lucky to have her :-)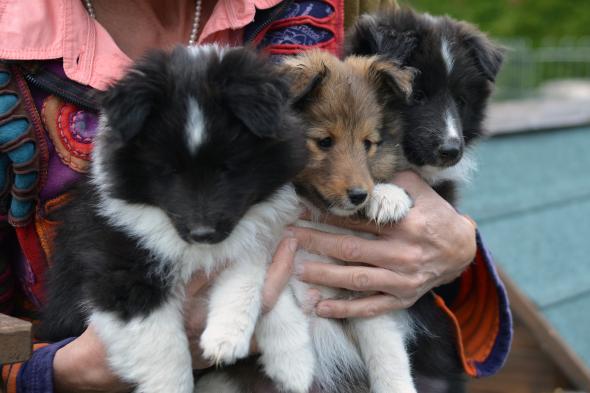 Lola (left) & her sisters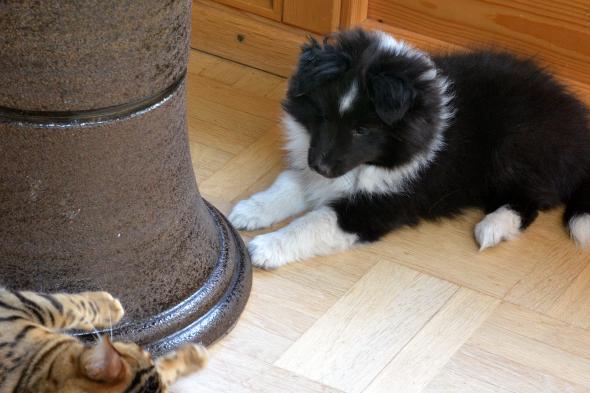 The day we picked Lola up at the breeder
Lola's 1st day at her new home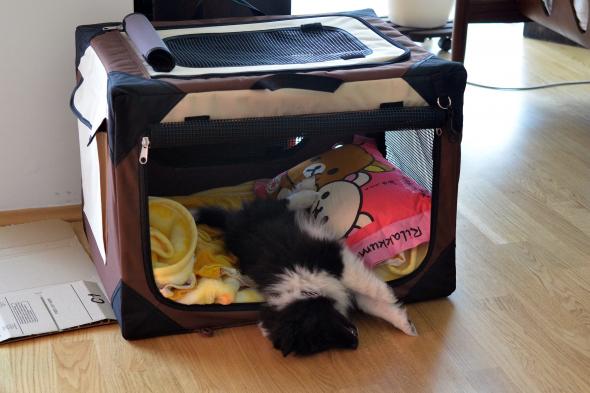 I have no idea why, but she loves to sleep like that  :-)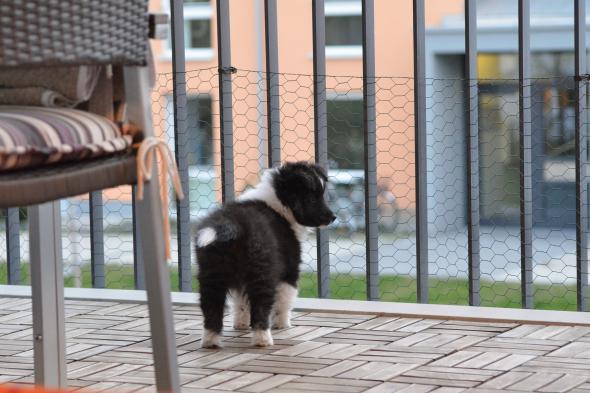 She loves the view from our balcony, sometimes she starts barking at everything that moves out there
She was allowed to cuddle with us in our bed after her first puppy play time 
She is so big now! We will probably have to "glue" her pointy ear ;-)
I hope you enjoyed this little update on Maria Dolores Heinrich! Until next time!
xo