Welcome to my crib: Bedroom
---
I've been planning a "house tour" for some time now. I even cleaned everything and took some pictures, but then Japan happened and then Lola and i was not able to implement my plan. But if not now then when, right?
Well, i present you the first room of this series: our bedroom!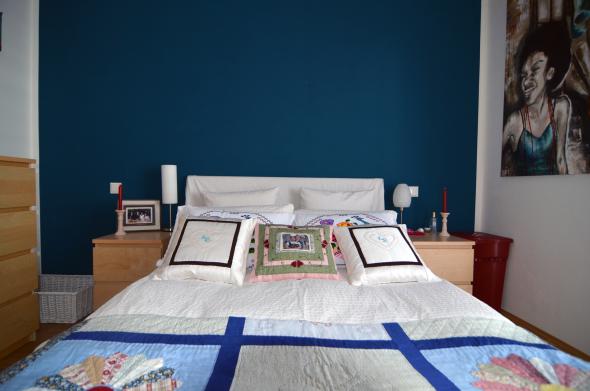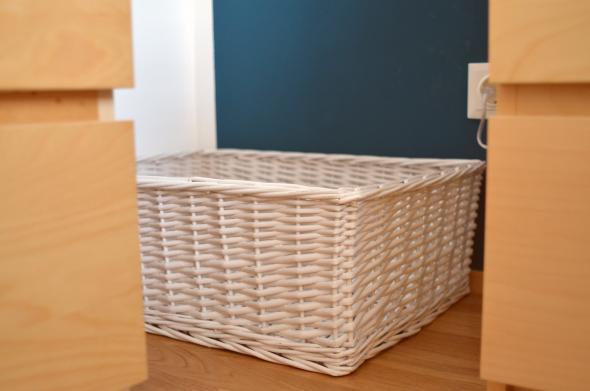 The room itself is not very big, i think it's only 11 square meters but thanks to the big window we always have a lot of natural lighting. I wanted to have a nice dark color at least on one wall and we choose a very pretty petrol color, which sadly doesn't come across well on the pictures, but it looks really good, specially since we left everything else white. On one side we have a closet big enough for us both. It doesn't take the whole wall and we have 2 small niches, on one of them we have shoe hangers from IKEA and on the other are household stuff like our ironing board. We also got a white wicker basket for all the pillows because they used to land on the floor all the time and i didn't like it.
Our bed headboard and footer are made of rattan, but it's worn out at some places and it doesn't look that good anymore. We asked my husband's grandmother to sew us some covers out of a couple of spare white curtains. I think it works well. We also got two pillow cases to match the covers :-)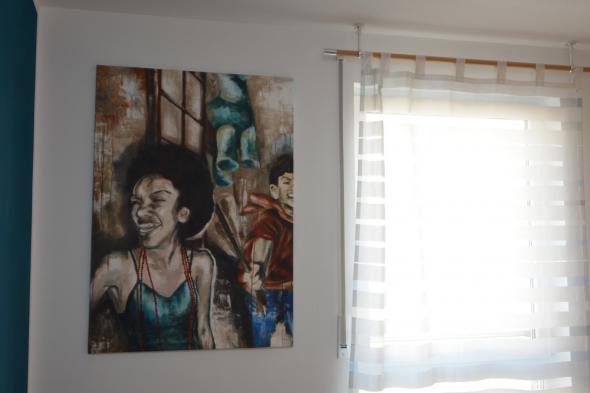 I love the window side of the room. My sister-in-law did that painting for us before we moved in and we were pleasantly surprised that she chose exactly the same color of the wall :-)
The other side of the room... i'm not so happy about. I'm not really sure how to make it work. A friend of mine knows that i love pink and cherry trees and did that painting for me and my brother got us the owl clock for christmas last year and i love them both, the colors fit perfectly, but the whole wall just doesn't work for me. I would love to get more frames in different types and sizes and fill the wall up (let's see if i can do a photoshop version of it later). We also got a dresser that i'm not happy about. It used to stand in our living room, but since we bought new stuff for that room we had to put it in our bedroom. 
We want to buy new furniture for this room too, but it will have to wait a little, at least until we save some money for it.
I would love to have a four-poster bed but my husband doesn't like them much. We still got to an agreement and i will get a baldachin with indirect lighting :-D
And although i like the room the way it is now, i'm looking forward to make some chages to it.
I hope you liked our little bedroom and let's hope i get to shoot new pictures of the rest of the house soon! (i'll have to clean up first!)
xo