Of puppies and fears
---
We have been so busy lately... and to be honest, i have been so tired lately. 
We got our little sunshine on wednesday last week and she has kept us busy and awake.
For me it has also been an emotional roller coaster. I'm not really good with changes and although i'm aware that they are good, at first i always fight them. I think it's a normal reaction to be afraid of something you don't know, like the future and how everything is going to turn out... as you see i tend to overthink stuff :-/
Well, my fears with the dog were that i didn't know what to do! as simple as that.
I was afraid to overstraining her or that she got bored and started chewing on stuff she is not supposed to. I was afraid she wouldn't like me, or not accept me as a "dog mom". I actually was afraid of bonding with her due to my fear of loss. 
But then she looked at me with her pretty big puppy eyes and i remembered again why i wanted to get a dog in the first place. 
She's awesome! 
She is 9 weeks old now. She goes to her bed (at the moment it's a transport box) every time she gets tired and she doesn't cry at night when we close the door of her box. Housetraining is going really well, she already goes to the door whenever she has to do #2 (it's still taking some time with #1). She already knows her name and comes when you call her (well, almost every time) and since yesterday she also sits! 
It makes me so proud seeing how smart she is and how quickly she learns! 
She still wakes up at night to pee (that's why we're so tired), but only once. She is still afraid of everything! People, bikes, cars, specially other dogs, but with some time she opens up and starts to play (still, not with other dogs...)
Everyday is so exciting and fulfilling that my fears are slowly subsiding. And the bonding problem? well, how can you not fall in love with this little puppy?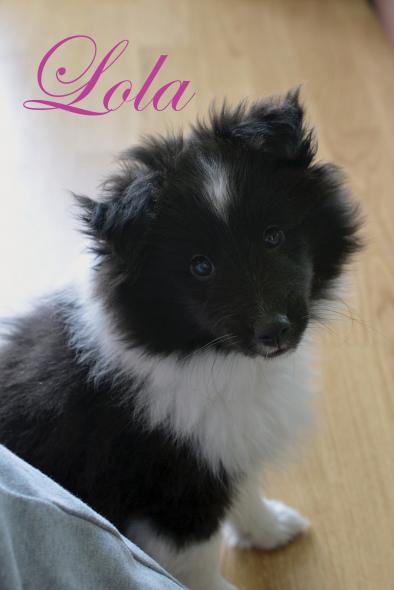 Welcome home Kaija of Perfect Dream a.k.a. Maria Dolores "Lola" Heinrich! (yes, that's her name) You rock my world little girl!
And Happy Children's Day Mexico!!! 
xo