Late New Year's Resolutions
Posted by
beritas
| On Tuesday, 5 March 2013
I know that it is already march.
BUT do you know how the year starts and you have already sooo much to do, that you just don't have enough time to work on your hopes & wishes for the new year?
Well that kind of stuff happens to me a lot!
This past two months have been just crazy! Finishing the semester, learning for exams, deliver essays, start planing the next semester and so on... while you still have to go to work, so that you can buy cute things for spring.. if it is ever going to show up!
Well, now i finally have time to relax a little and start thinking about what i want this year to be.
I made a list of 10 things that i want to accomplish in 2013: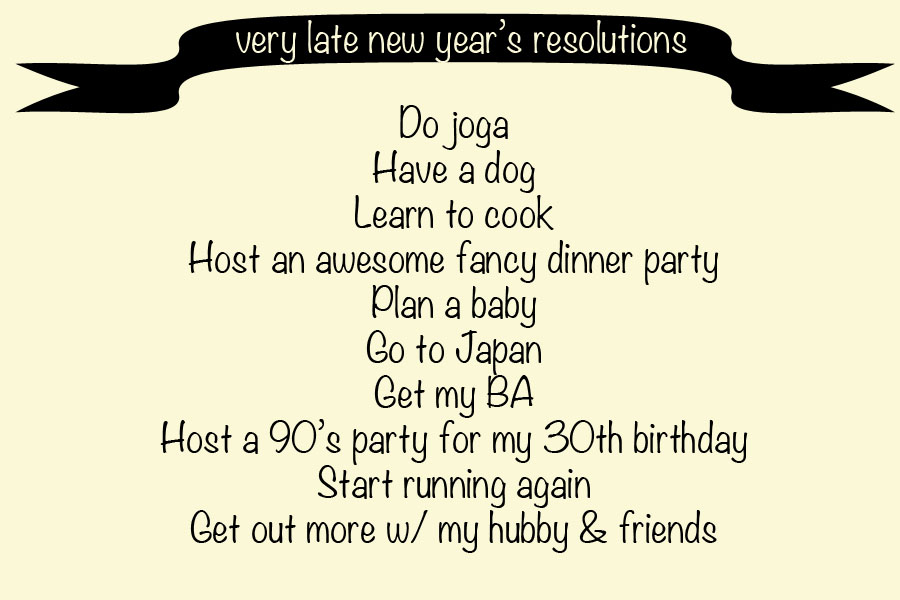 I really need to learn to relax! I think joga could help me with that
We are having a dog!!! :-) i am sooo happy & excited! we are getting a beautiful sheltie girl in about 2 months
I love baking and i'm actually good at it, but cooking... well that's a whole different story. I'm not really good at seasoning...
After i learn how to cook i would love to host a dinner party Martha Stewart style! with fancy wine & cheese
We don't HAVE TO have a baby right now, but i would really like to start planning it ;-)
We are going to Japan!!! In 3 weeks we are going to be standing in the land of sushi, samurai & sakura! i'm sooo looking forward to it!
I only have to write my thesis & then it's bye bye university!
This year i'm turning 30 and what better way to celebrate than hosting an awesome fun 90's style party! everybody has to show up in a 90's outfit and listen to 90's music! many are not going to like it but hey! it's my party right? i can't wait!
I realised that i ♥ running! i'm not super fast.. or actually very good at it.. but it is fun & i feel good doing it. I think the dog is going to be my motivation
For my husband & me staying at home watching movies and cooking something (my husband cooks!) is the best way to spend our weekends and freetime. But it's also important to get out once in a while and have fun with more people!
This year is going to be awesome!
How about you? What are your wishes for this year? And if you haven't written a list yet or you think it's already too late... it is only just march! we have 10 more months to go and it is never too late for a fresh start :-D
xo
Comments Block 2
Comment:
[...] last year, when i posted my new year's resolutions in march? Well i'm actually a little bit earlier this year. Weeeee! Maybe next year i'll manage [...]
Post date:
Thursday, 13. February 2014 - 20:08
Comment:
Woohoo, first comment.
Best wishes and good luck with your little blog from your hubby!
Post date:
Tuesday, 5. March 2013 - 22:44